At The Beautique, we offer a unique bespoke aesthetic skincare service, tailoring our treatments specifically for you and your skin's individual needs.
The first step is to book your skin consultation for £55, which is redeemable upon booking a course of six treatments or more. During your 30 minute skin consultation, we will look closely at your skin, discuss any concerns or areas you would like to focus on and then decide upon the best course of treatments to transform your skin.
Detailed below are some of the treatment options available with our Bespoke Aesthetic Skincare.
Bespoke Needle Mesotherapy
Fusion Fractional Mesotherapy combines two concepts, the first being advance collagen stimulation therapy and the second, the introduction of traditional pharmaceuticals, vitamins, minerals, growth factors, biomimetic peptides, and amino acids into the skin to target specific conditions.
Collagen stimulation or Collagen Induction Therapy as it is also known, has long been a popular and effective treatment. Originally performed via a dermal roller, in recent years advancements have progressed from a hand held device to an electronic device that offers not only superior results but has also resulted in an increase in comfort for the individual receiving the treatment. It is important to remember that not all practitioners offering electronic needling treatments are performing a Fusion Fractional MesoTherapy treatment.
Fusion Fractional MesoTherapy is a specialist treatment undertaken by practitioners that have specialist knowledge and training in MesoTherapy, providing the skill and ability to treat each client's individual condition, resulting in the best possible outcome. The Fusion MesoTherapy products that are used within the treatments are of the highest quality, and contain the most advanced ingredients, and unique formulas. When Fusion MesoTherapy is combined with collagen stimulation, the results supersede standard dermal roller or electronic needling results. Why? Because having a true and in-depth understanding of each client's skin, flexibility to treat multiple conditions at the same time, the knowledge of how to use most advanced products, coupled with a superior device, provides us with the ability to reach and meet expectations overtime through our advanced treatment plans.
Derma Pen – The Red Carpet Treatment
This natural and safe non-surgical treatment offers impressive results. Loved by celebrities to keep their skin looking fresh, firm, radiant and hydrated. It can also be used as an alternative to cosmetic procedures. The Fusion MesoTherapy is the most requested treatment by celebrities within the MesoTherapy range. It incorporates a special cocktail along with a potent mix of growth factors and biomimetic peptides. It is blended with a line filling hyaluronic acid for deep nourishment and wrinkle reduction. The results speak for themselves, rejuvenation on many levels. Anti-wrinkle, skin-firming, stimulation of collagen, skin lightening, brightening and free-radical blocker are just some of the many benefits of this treatment comprises of collagen stimulation via the Fusion Meso Pen coupled with a cocktail serum made with a bespoke combination of ingredients such as hyaluronic acid, vitamins, minerals, growth factors and biomimetic peptides, blended together with a patented product called Fusion Meso Smart Mix.
In addition to this to radically enhance your results, Fusion MesoTherapy Expert electroporation (VirutalMesoTherapy) is applied to the skin to prolong the results of your star studded facial. The CelebritySmart treatments are based purely on each individual's specific needs.
Nappage
Nappage is the most popular and superficial MesoTherapy injection technique developed by French physician, Dr. Dalloz Bourguigon. Nappage consists of performing a series of micro-injections. This acts to transport the MesoTherapy products to the middle dermal layer where cellular interactions takes place. Vitamins, minerals and hyaluronic acid successfully aid the treatment of cosmetic skin conditions, including skin rejuvenation and localised fat reduction. Areas such as frown lines, under eye fat bags, dark circles, tired eyes, nasolabial folds, cheek contour lift and hair loss are all areas that can be successfully treated with this method of MesoTherapy.
Treatment time can vary from 45 minutes to 90 minutes depending on treatment delivered
There is no downtime so you can return to normal activity immediately following treatment
Results are apparent from first treatment
One a week over six weeks is recommended followed by once a month maintenance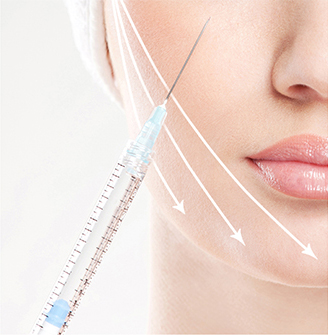 COST
Face & Neck | £255
Face, Neck & Eyes | £290

Gift Vouchers
Call or email with details & we can either post the voucher or have it ready for collection from The Beautique.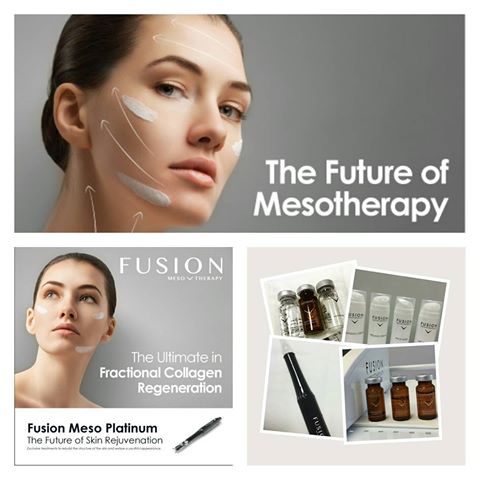 Bespoke Virtual Mesotherapy
Effectiveness without Injections
A non invasive procedure that is an alternative to needles and injections. The system allows transdermal conducting of pharmaceutical and cosmetic products through Virtual Mesotherapy used in the treatment of skin ageing, facial tightening/lifting, eye bag reduction and diffusion of dark circles and hair loss/prevention treatment.
This Virtual mesotherapy system, used in the medical field and at last adopted in the cosmetic sector, simplifies treatments because it increases the cell capturing power and facilitates the passage of substances along the water channels called "aquapo-rins". The discovery of these channels along which small electrical impulses can travel, thereby stimulating the cells, led to the 2003 Nobel Prize in Chemistry being awarded to the US doctors, Peter Agree and Roderick Mackinnon. Thanks to this, today we have various Virtual Mesotherapy techniques that can be applied to cosmetics:
Activating current: It creates a general stimulus that makes the organism keep in balance with its own resources.
Electroporation: It uses electromagnetic currents that produce permeability in the cell membrane and in the pores that absorb the active ingredients.
Hydroelectropheresis: It uses pulsed current to make the active substances penetrate inside the tissues.
Cryotherapy: This method consists of a system that includes applying cold to reduce microcirculation and setting the active ingredients to heighten their effect.
Two basic tools are involved in Virtual Mesotherapy: the Mesoscience by SKEYNDOR equipment and the professional experience when applied.
The Mesotherapy must be administered with small amounts of active ingredients because, as they are penetrated with electrical stimulation, they reach the intra dermal layers immediately. This treatment includes the specific range of mesocosmetics designed by SKEYNDOR, which provide a large contribution of active ingredients in a controlled manner.
All our Skeyndor Facials are used in our Bespoke Virtual Mesotherapy, to understand more about the facials available, please see our Skeyndor Facials page.
Treatment time can vary from 45 minutes to 90 minutes depending on treatment delivered
There is no downtime so you can return to normal activity immediately following treatment
Results are apparent from first treatment
One a week over six weeks is recommended followed by once a month maintenance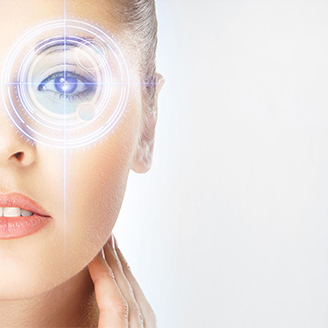 COST
Face | £125
Face & Neck | £165
Face, Neck & Eyes | £200
Eyes | £70
Transform your skin. Book your skin consultation today.